first thing to leave in 2017: the pwi vs hbcu debate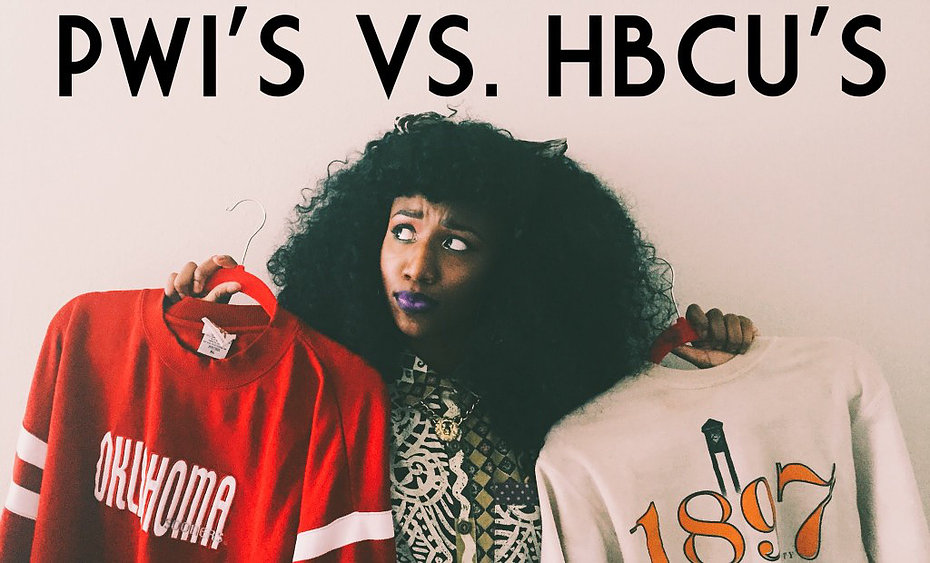 This article was originally written for [Caged Bird Magazine]. It has been given minor edits before re-posting.
In the past few years, it seems like the PWI vs. HBCU debate has been a never-ending topic within the Black community, especially in the age of social media. We saw in August, after the Charlottesville riots on the University of Virginia campus, a string of messages on Twitter criticizing Black students at UVA for attending that school rather than an HBCU. We then saw in early November, a trending hashtag (#HBCUTwitter) where user Shelise McElroy clapped back at a user who made the assumption that half of HBCU students are hurt because they did not get into to the school they originally wanted to attend. McElroy retweeted:
"24 college acceptances, 4 Ivy Leagues, 9 PWIs, over $400,000 in scholarship money, 4.2 GPA, and I picked MY HBCU! The Illustrious Tuskegee University... NEXT ‼️‼️"
It has since acquired 1,332 retweets. If you are senior in high school, you're probably facing a daunting task on where to college for the next four years of your life. If you're a Black senior, chances are you're deciding whether attending an HBCU or a PWI is in your best interest. The debate over PWI vs. HBCU created a chasm in Black spaces as some PWI students look down on HBCUs, while some HBCU students criticize Black students who attend PWIs.
A PWI, such as Quinnipiac University or Boston College, is a predominantly white institution and is defined by Encyclopedia of African American Education as an "institution of higher learning in which Whites account for 50 percent or greater of the student enrollment." An HBCU, such as Morehouse or Spelman, is a historically Black College & University. Before the Civil Rights Act of 1964, HBCUs were critical to young Black students; created because of white colleges barring admission to Black students. However, in today's age, many wonder why students still choose to attend HBCU despite the fact that universities cannot legally discriminate against applicants based on race.
When asked why she chose to attend an HBCU, Javanna Plummer, a senior at Tuskegee University, commented that she grew up with parents who went to HBCUs and after going to a mostly white high school, she wanted to be somewhere with "an environment that [she] felt would be less hostile (based on high school experiences)."
The decision of where I attend college now was based on my desired college major back in high school. In September 2013, I wanted to be a Music Industry major, and when I did my research, not too many schools have it as a program and HBCUs didn't have it at all. I also had very few family members who went to college, let alone HBCUs, which left me without a reason to otherwise go to an HBCU (Eventually, I did more research a few years later). Halfway through my freshman year at a small liberal arts college in Boston that had less than 900 students, I started looking for schools to transfer to. I considered Howard University and Clark Atlanta University for a moment. But with a cousin who had a negative experience at Howard and a mom who wasn't too keen on me going away to a college 14 hours away from home, even if Atlanta was my dream city, I went back to the drawing board.
I then applied and was accepted to the University of New Haven and Marymount Manhattan College, but it was the former that caught my heart. After I saw the website, visited the campus and met the staff, I knew I had found my new home. It is a school where I could get the full college experience and immerse myself in student organizations. New Haven is a very diverse but still very much a mostly white school. Since enrolling, I have come to love my university and the gracious people I've met along the way. I just didn't feel that HBCUs was the best place for me socially. Moreover, being at white school does not stop me from fighting for things that HBCUs have such as professors of color, safe spaces or African-American-centric classes.
What I do have a problem with is seeing people on Twitter come for Black students who go to PWIs, claiming we're whitewashed or Oreos, or we are in a sunken place. However, we can't ignore the other side where HBCU students can be labeled "ghetto," "ratchet" or unprepared to deal with the real world post-college. But at the end of the day, who are we as Black folks to shame each other for the schools we ultimately felt were for us? 
Furthermore, the notion that my blackness is in question for going to a PWI is ludicrous. I don't feel the need to validate or invalidate my blackness because of the school I attend. I may not go to an HBCU, but at New Haven, I learned to have pride in being Black and my sophomore year was a time of many firsts: the first time I had a Black teacher and the first time I learned that there is a Black national anthem.
According to the National Center of Education Statistics (NCES), the percentage of Black enrollment at the college has risen from 11.7 to 14.1 percent between the years of 2000 and 2015 compared to 57.6 percent (in 2015) who are white. The college degree gap is continuing to grow more extensive between whites and Blacks as well. We need to put the PWI vs. HBCU debate to rest. It does not matter if XYZ student attends FAMU and the other attends Penn State because we're still Black college students who are even privileged enough to reach this level of education in a country where many (racist) white folks do not want us to succeed. Let's think about the days when our ancestors were slaves and could get aggressively punished for even trying to learn how to read or write as their white masters knew it could be our key to eventful liberation.
Stop worrying about the number of Black faces at a particular campus has and let's celebrate and uplift our fellow brothers and sisters who are making strides every day toward one goal: a degree. In hopes of securing the bag and paving the way for future generations of young Black boys and girls to come.